These money-saving tips will definitely
differ
in a way that what we write is what we practice. I must admit budgeting is not my forte. Sometimes, I lose grip of my allowance buying my wants and not the needs. No worry, it happens once in a blue moon only. Most of the time, I stick with my budget except for some unavoidable circumstances. So now, here are some of my ways how I save my money:
1. List your expenses. Before payday, I

have listed

down all my expenses in my notebook including our savings. In this way, I can see where our money goes and what expenses must be cut off. It's also my way of estimating our allowance for two weeks.
My notebook where I compute all our expenses
2. Avoid tingi-tingi for fast moving and non-perishable items. It would save us time and energy if we buy bigger stocks of fast moving items (e
.
g
.
shampoos
,
cooking oil
, soaps) instead of the smaller version. I have my bath products in their big container as all of them are fast moving. Most of them will be refilled after two months. It lessens our trash by reusing their containers for refill or selling it to junk.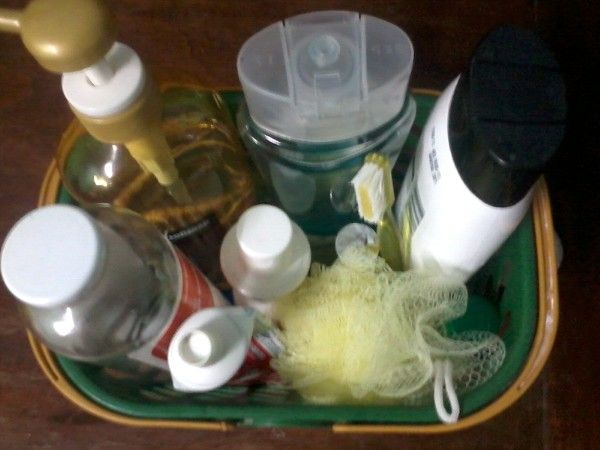 These are my body and bath products
3. Pay on-line and on-time on your monthly bills. Instead of paying for
fares
and incurring charges for late payment, why not try
online banking
. If you are familiar with
Bancnetonline
, I highly recommend this especially if you are always
online
. Their service is free of charge. See my post about it here.
4. Try haggling (Tawad). Who never tried this while

buying

in the market? You can have a higher discount than those in the stores.
5. Use discounted coupons if applicable. A 10% off maybe small in value, but it helps when buying in bulk. I used the Mercury Drug coupons attached in their calendars to buy beauty products or medicine.
If you have more tips to share, why not join our BC Bloggers Meme this week hosted by Chin Chin of Stay at Home Blessings. We never know, we may help others through sharing.