My simple gift for myself was a foot spa voucher from Nails & Teas Spa bought at Metrodeal. Whenever I learned about big discounted services from any group buying site, I always make it a point to share it with Emy. By the way, Emy is one of my colleagues. We were oriented on the same day, and we get along with each other. I told her of this promo for P100 so we bought one voucher each.This was my first transaction at this coupon buying site, but I know this will not be my last.
Highlights of P100 Foot Spa Combo: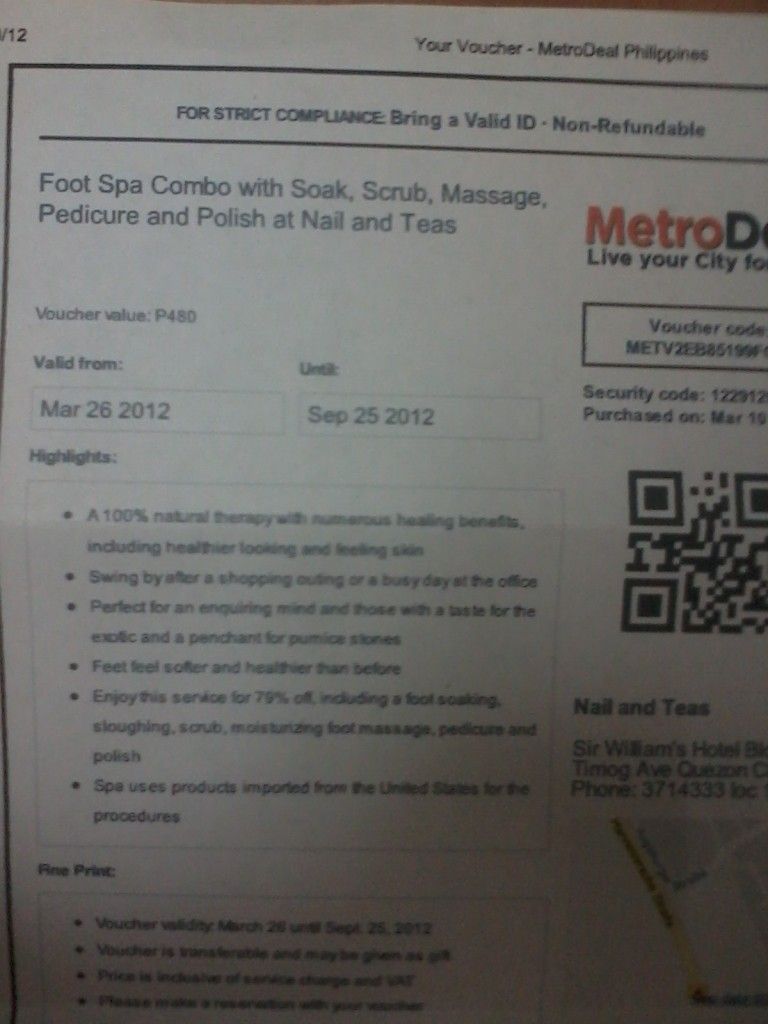 A 100% natural therapy with numerous healing benefits, including healthier looking and feeling skin
Swing by after a shopping outing or a busy day at the office
Perfect for an enquiring mind and those with a taste for the exotic and a penchant for pumice stones
Feet feel softer and healthier than before
Enjoy this service for 79% off, including a foot soaking, sloughing, scrub, moisturizing foot massage, pedicure and polish
Spa uses products imported from the United States for the procedures
Because many availed of this promo, our reservation scheduled just this May 21. Anyway, we were not rushing to use the vouchers naman. Monday came, I confirmed our reservation. I was very excited because aside from pampering myself, I really wanted to get rid of my ingrown. Lol ;(
Before our spa session, we first went to SM North to buy a pair of shoes that will fit my uniform. Then we headed to the spa, so we were a bit exhausted. When we approached the people there, they welcomed us with a smile. They instructed us to sign the vouchers and choose the polish and seats we want.
The whole area was in dim light with relaxing fragrance coming from air freshener revitalisor. Their room scent reminds me of Elegant Secrets. Countertop has a wide array of imported nail polish. Since we were Metrodeal customer, we were only advised to choose from LA nail polishes.
Foot soaking
Our first taste of the service was foot soaking. The water
has a mixture of scented foamy liquid soap
in the electric foot spa massager . This is a good start to soften the calluses and loosen the dirt that we accumulate. And since the water was gradually heated up, it helps my muscle to relax and the blood to circulate. Aside from this, the liquid soap has a moisturizing effect on my skin, as it runs smoothly when poured.
Scrubbing
The dirt from my feet was further removed by the scrub. Very relaxing. I must admit, I began to feel sleepy but held it to see how they do their services.
Sloughing
My! Oh! My! I loved this part. I had thick dead skin cells on my feet. It has something to do with what I slip on. Sometimes, I used plastic slip-ons that I got callous. I cannot remove it by just using a lotion or moisturizer. My assistant, after scrubbing my feet, carefully sloughed it, especially those super thick parts. She sloughed my callous, which bleed, but I never felt the pain. I'm satisfied with the outcome. :0
Moisturizing
Sloughing the feet needs moisturizer so it will not dry the skin. This time, she put an oil on my lower leg up to my foot, and gave me a hard massage. I was in pain and jest. She told me I has lots of cold spots so that's where she concentrated her massage. It was a relief on my legs when the massage is over. A well balance mixture of moisturizer and massage released the tension points around my legs and feet.
Pedicure
Been two months after my last pedicure and those dead skins around my nails and an ingrown infuriated me before. I was not the type that would schedule a pedicure every week or two. I know that having this habit will turn my nail brittle and yellowish. My assistant then started cleaning my nails. And when she finally removed my ingrown, I was really in pain. She did it without my nail bleeding. Of course, I was relief when it was gone. She advised me not to wet my toe for a day so that it will recover immediately. I had chosen a blue nail polish with glitters that when lighted from different angle will change in color.
Overall, my experience with them is worth more than P100. They were very accommodating and know what they are doing. I will surely go back again. By the way, I have no pictures during pedicure. My phone had battery emptied.
Sir William's Hotel, Timog Ave. QC
Phone #: (02) 371-4333 local 108